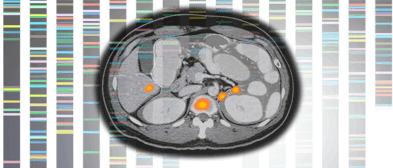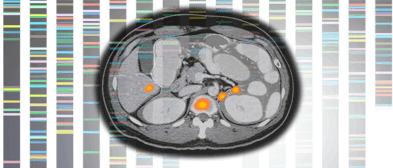 Why is PSMA a Key Phenotypic Biomarker
in Advanced Prostate Cancer?
PSMA is a transmembrane protein that is anchored in the cell membrane of prostate cancer epithelial cells.1-3 PSMA has been used as a phenotypic biomarker with positron emission tomography (PET) imaging approaches.4-6
PSMA is highly expressed in metastatic prostate cancer relative to normal tissue and is present in >80% of men with prostate cancer.7-14

PSMA has been shown to have potential utility at multiple points within the prostate cancer care spectrum.6,10,15-17
PSMA and Prognosis
PSMA expression level in tumours has been negatively correlated with survival outcomes.10
The 5-year recurrence-free survival rates are 88.2%, 74.2%, 67.7%, and 26.8% for patients exhibiting no, low, medium, or high PSMA expression on preoperative biopsy, respectively.10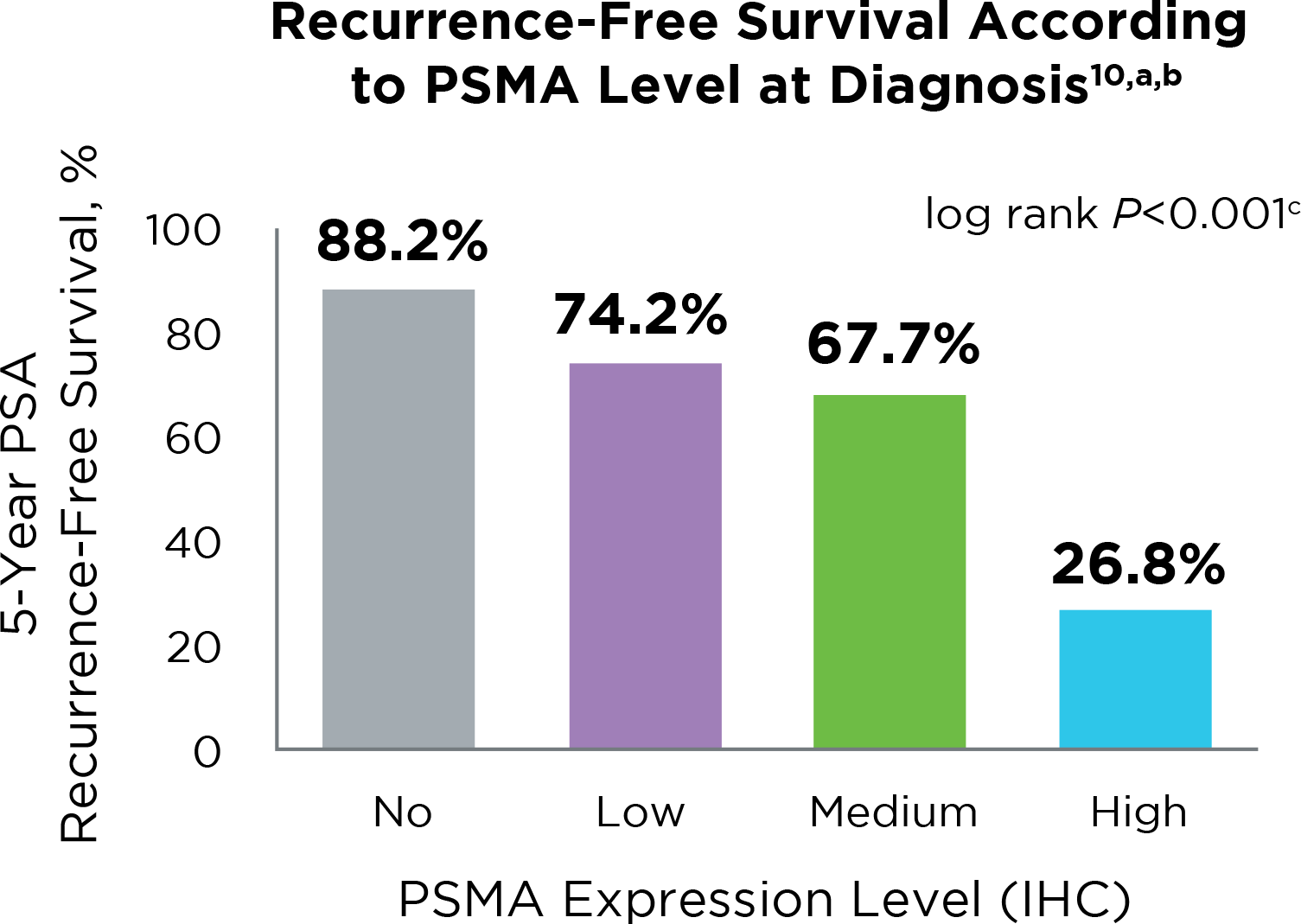 Because of their utility in prognostics, PSMA PET/CT results may be used to guide management decisions in clinical practice.16
PSMA and Clinical Management
The results of a retrospective, real-world, single-institution study showed that PSMA PET/CT after conventional imaging may lead to management changes in up to 60% of patients.15,16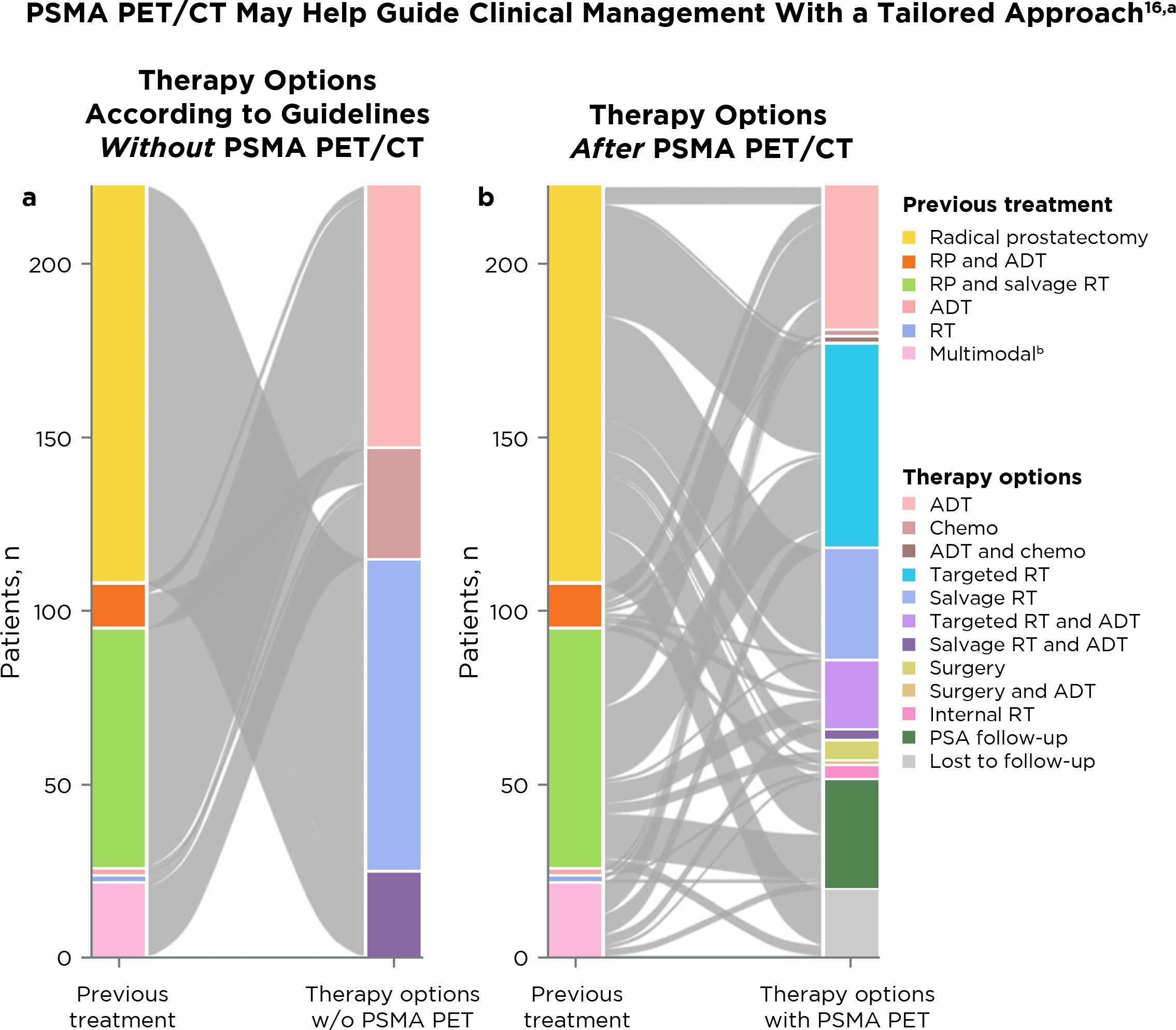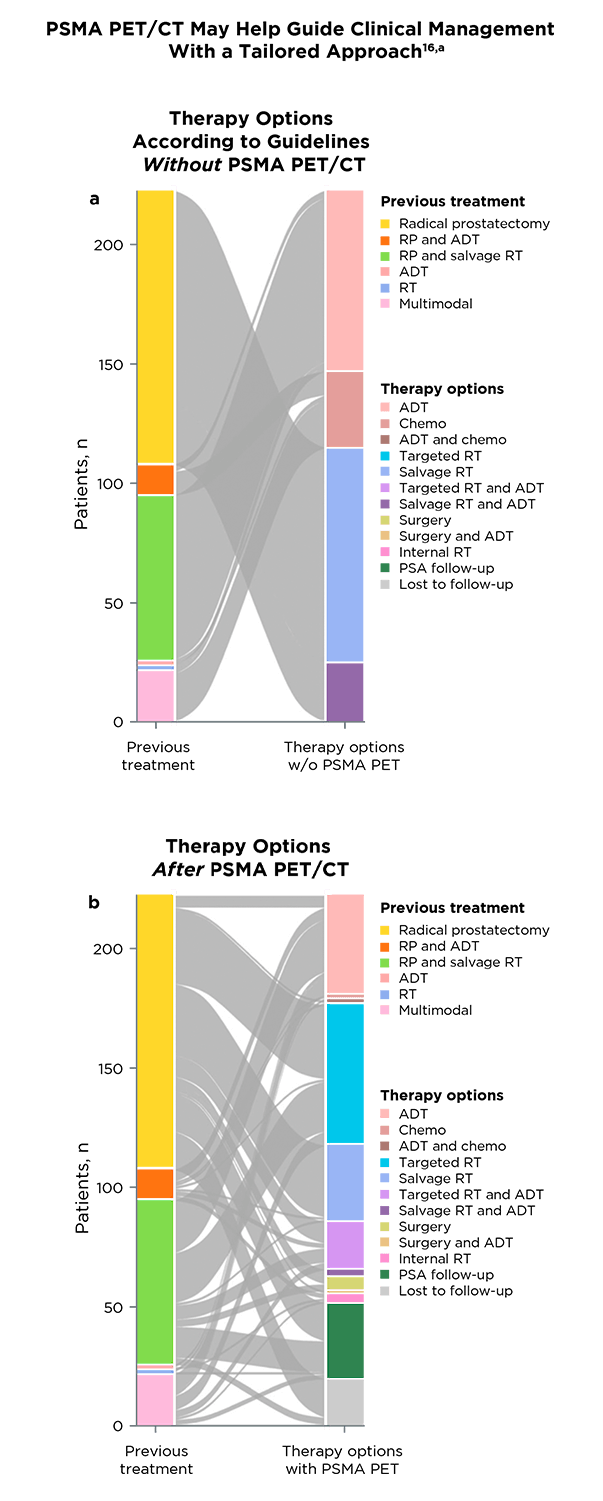 Furthermore, based on preclinical data, PSMA has been shown to affect several key oncogenic pathways* and is being evaluated as a relevant therapeutic target.18-23

Cell proliferation and survival18-21

Cell migration21

Angiogenesis22,23
Many of these outcomes are driven by the role of PSMA in the PI3K/Akt pathway.18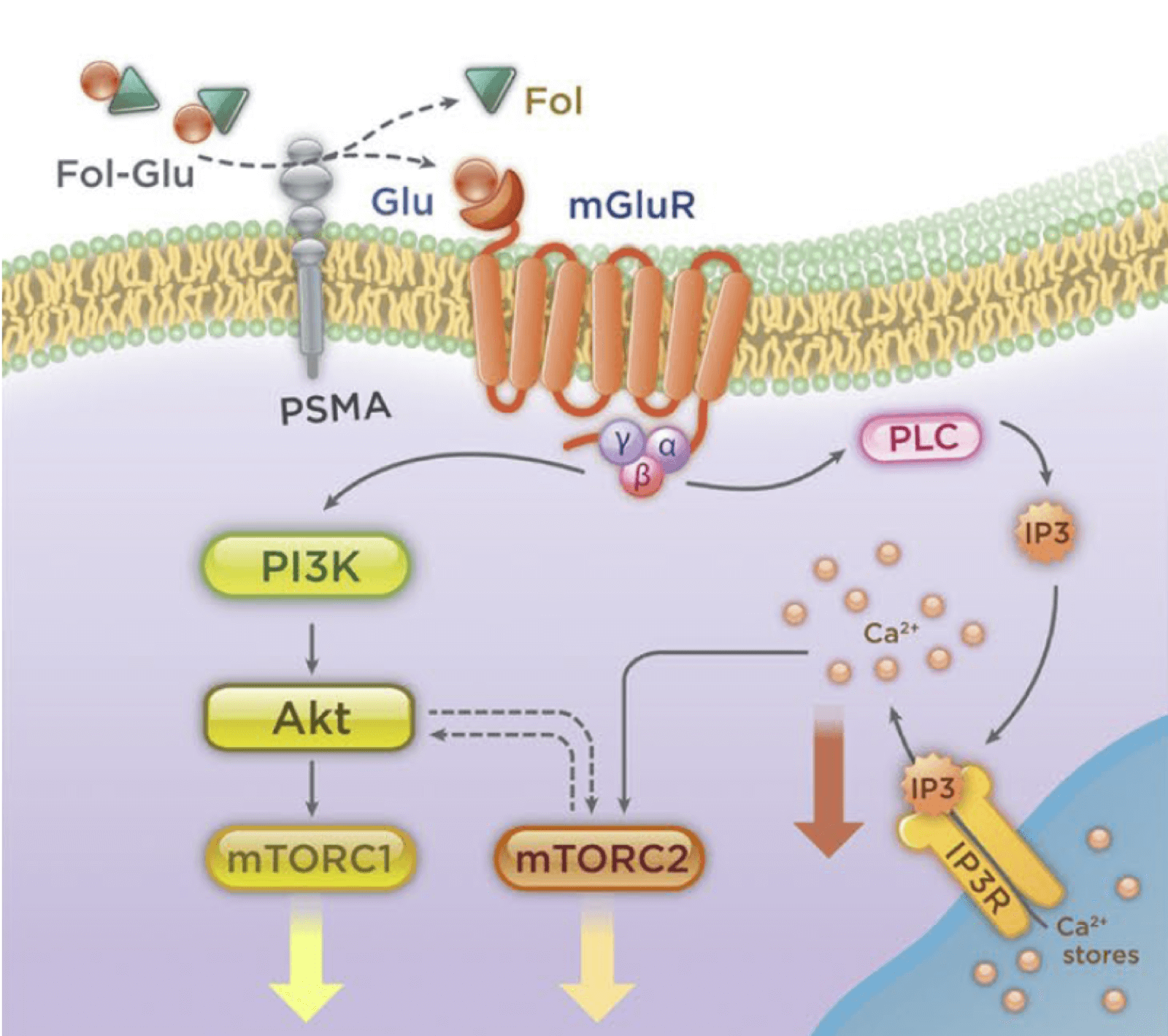 PSMA is a diagnostic biomarker and potential therapeutic target, enabling a phenotypic precision medicine approach to help guide patient selection for therapy in advanced prostate cancer.6,10,15,16,24,25
References 1. Israeli RS et al. Cancer Res. 1993;53(2):227-230. 2. Mesters JR et al. EMBO J. 2006;25(6):1375-1384. 3. Bařinka C et al. Curr Med Chem. 2012;19(6):856-870. 4. Kratochwil C et al. J Nucl Med. 2016;57(8):1170-1176. 5. Calais J et al. Lancet Oncol. 2019;20(9):1286-1294. 6. Hofman MS et al. Lancet. 2020;395(10231):1208-1216. 7. Wright GL et al. Urology. 1996;48(2):326-334. 8. Sweat SD et al. Urology. 1998;52(4):637-640. 9. Perner S et al. Hum Pathol. 2007;38(5):696-701. 10. Hupe MC et al. Front Oncol. 2018;8:623. 11. Hope TA et al. J Nucl Med. 2017;58(12):1956-1961. 12. Pomykala KL et al. J Nucl Med. 2020;61(3):405-411. 13. Minner S et al. Prostate. 2011;71(3):281-288. 14. Bostwick DG et al. Cancer. 1998;82(11):2256-2261. 15. Calais J et al. J Nucl Med. 2018;59(3):434-441. 16. Müller J et al. Eur J Nucl Med Mol Imaging. 2019;46(4):889-900. 17. Fendler WP et al. Clin Cancer Res. 2019;25(24):7448-7454. 18. Kaittanis C et al. J Exp Med. 2018;215(1):159-175. 19. Colombatti M et al. PLoS One. 2009;4(2):e4608. 20. Perico ME et al. Oncotarget. 2016;7(45):74189-74202. 21. Zhang Y et al. Prostate. 2013;73(8):835-841. 22. Conway RE et al. Mol Cell Biol. 2006;26(14):5310-5324. 23. Conway RE et al. Angiogenesis. 2016;19(4):487-500. 24. Hofman MS et al. Lancet Oncol. 2018;19(6):825-833. 25. Zang S et al. Oncotarget. 2017;8(7):12247-12258.